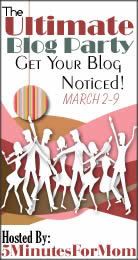 Mark your calendars!
5 Minutes for Mom
is hosting The Ultimate Blog Party during the week of March 2.
Prizes! Guests! Fun! You can find out all the details
here
. Just in time to brighten up the end-of-winter blues. I don't know about you, but I could really do with some brightening. Go check out the details and don't forget to invite your friends.