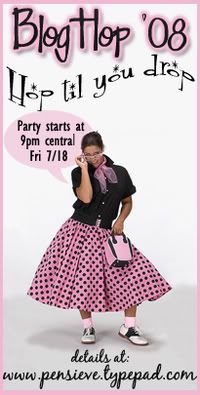 Many thanks to
Karen
and
Robin
for throwing a great
party
. I had so much fun meeting new friends, sampling new party food,
winning cool door prizes
. And the BlogHop party attenders didn't have to worry about the flight home or post- party pounds.
The random number generator did it's magic and selected the two winners for my party door prizes.
The winners are...
Rebecca at
Ramblings by Reba
Vinca at
Pervanche Bleue
These ladies have been notified.
Thanks to everyone who came to my party. Make sure you're having friends over when you make
my dip
or you might find you eat it all yourself.
Hope you'll come back and visit.