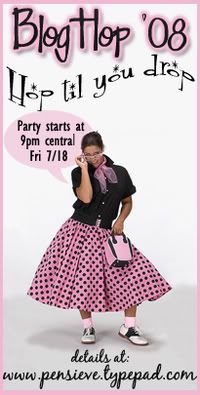 To console the many who are not currently enjoying themselves at the BlogHer conference in California,
Karen
and
Robin
have thrown together a fun little
BlogHop
. What a blast!
So, welcome. Come on in! Take a look around.
What's a party without refreshments? So have a virtual soda (diet available of course) or some sweet tea. And please, sample some of
this dip
. It's yummy.
Robin suggested that we keep these posts brief so that everyone has time to get around to a lot of parties. Read
My 100
for a quick look at who I am. Come back soon and take the ride through
Our Adoption Story
. It's been quite the adventure.
Thanks again to our wonderful hostesses, Karen and Robin. You can stop by Robin's blog,
Pensieve
for links to other "places to party."
I'll let you go. I know you have other places to visit. Thanks for coming by. Hope you come by again soon.
Oh and before I forget, please leave me a comment say, "hi!" I'd love to know that you stopped by so I'm giving away a couple of door prizes. (I love door prizes!) One lucky visitor will receive - a $5 gift card to Starbucks and another visitor will receive a $5 iTunes giftcard. All you have to do to win is leave me a comment (just one comment.) On Sunday evening I'll randomly select two winners from this post's comments (even from my regular visitors - so go ahead and comment.)